Our Services
Al-Owaidah Group Of Companies:
Al-Owaidah Group Of Companies was founded in 1948 some 50 years ago is a privately owned group of companies and establishments having its Headquarters in the city of Riyadh, Kingdom of Saudi Arabia .
The group is fairly diversified and exercises a wide range of activities covering :
Trade:
Al-Owaidah Development Co. :
was originally established in 1973 under the name of ( Al Owaidah trade establishment ) it was appointed as the Authorized Dealer & distributor in the Kingdom of saudi Arabia for Japaniese FURUKAWA wheel loaders .
In 1980 Al Owaidah establishment changed to
Al Owaidah Development Co. with same commerical activity. Al-Owaidah Development Co.
( FURUKAWA ) is now one of the most progressive and dynamic companies in KSA.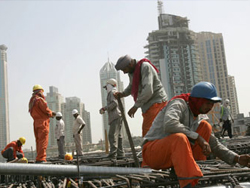 Contracting:
Al-Owaidah Co. For Contracting:
Specialized in highways constructions, bridges, tunnels runways & other civil engineering projects sewerage works railways, seaports & pipe lines.
Over the years , the Company has completed successfully different governmental.

Private and public projects , the considerable resources of the Company stand behind the construction mangers, engineers, technical experts, and other skilled specialists .
Industry:
Ahmed & Naif Al-Owaidah For Industries Ltd. :
Specialized in Fabricates a wide range of Steel Products, Caravan & Portable Houses.
Our aim of choosing manufacturing Pre-Fab houses is to help in the side of construction field necessity , Our designs were aimed towards portable houses to suit the purpose of re-using these units by consulting companies, contractors, employees and laborers housing outside or as transferable offices . Our Factory have supplied large number of road contractors, consulting companies, Government departments, and private sector in all areas of the Kingdom .
Real Estate Development:
Ahmed Al-Owaidah & Brother's For Contracting & Real Estate:
The company works in the construction, ownership, renting and sale of medium or large size markets and multi-purpose residential and commercial real estate in strategic locations in the kingdom of Saudi Arabia and the Gulf countries. The company approach is to perform the real estate basics and make profitable transactions , It's activities are Total Planning for areas for developement, designing of all types of buildings, from hangers to multi-storey .
Al-Owaidah services the following cities: